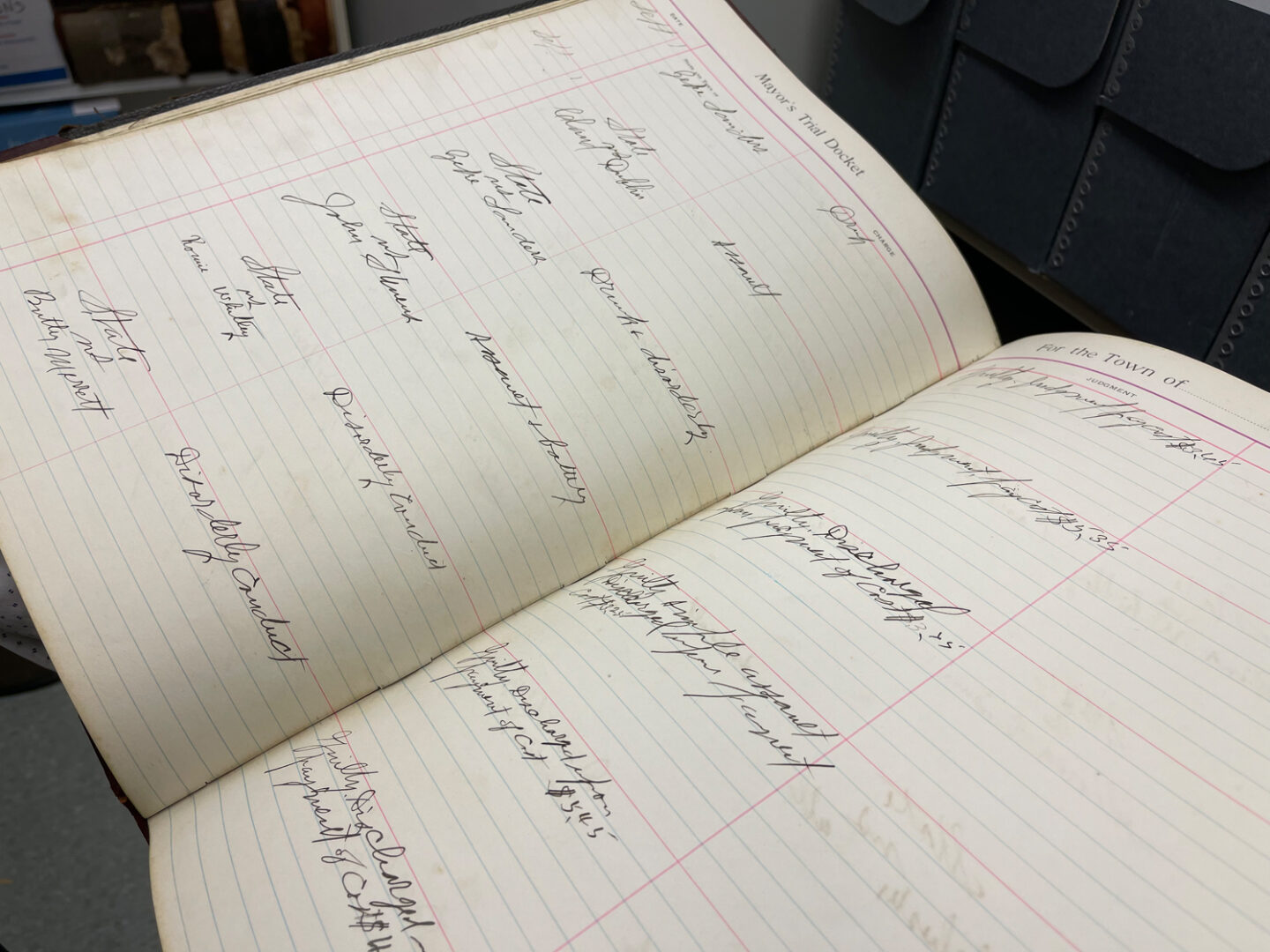 Johnston County, North Carolina, isn't a place you hear about often, if at all. But not exploring all it has to offer would be a mistake. There are no malls, no shopping centers, none of what other larger cities offer. But what there is here is history and culture and plenty of it; you really should begin your explorations at the Johnston County Heritage Center.
The Johnston County Heritage Center
Its beginnings were humble as the Heritage Center was given a single room in the library in 1967. However, the bicentennial celebration in 1976 created new interest and became a way to connect with family history and genealogy after the mini-series "Roots" aired on television. No one thought the interest in local history would last, but they were wrong.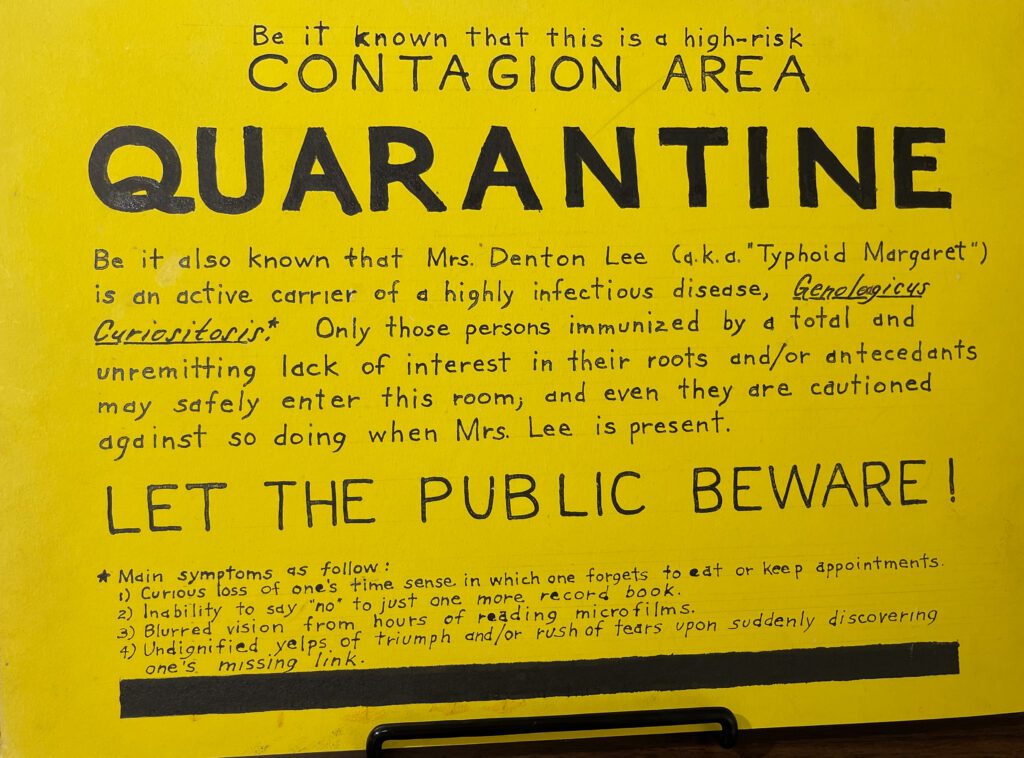 "Geneaologicus Curiositus" is a highly infectious disease" is a sign posted on the wall upon entering the second-floor sanctum of the Center. Anyone who's ever done genealogical research can attest to the truth in that quote.
The Heritage Center is run by Todd Johnson, who can answer any question you could think to ask. Things like what kind of crops were grown in Johnston County in the 19th century? Well, cotton, tobacco, and sweet potatoes, of course, and they are, in fact, one of the leading sweet potato-producing counties in the entire nation.
They have rotating exhibits of Lebanese settlers who came to the area to make their homes, a Women in Military Service exhibit, Pearl Harbor Survivors, dishes from Hiroshima after the bombing, etc. There's even an exhibit of one of the Tuskegee Airman — a company of black men — who trained with Clark Gable.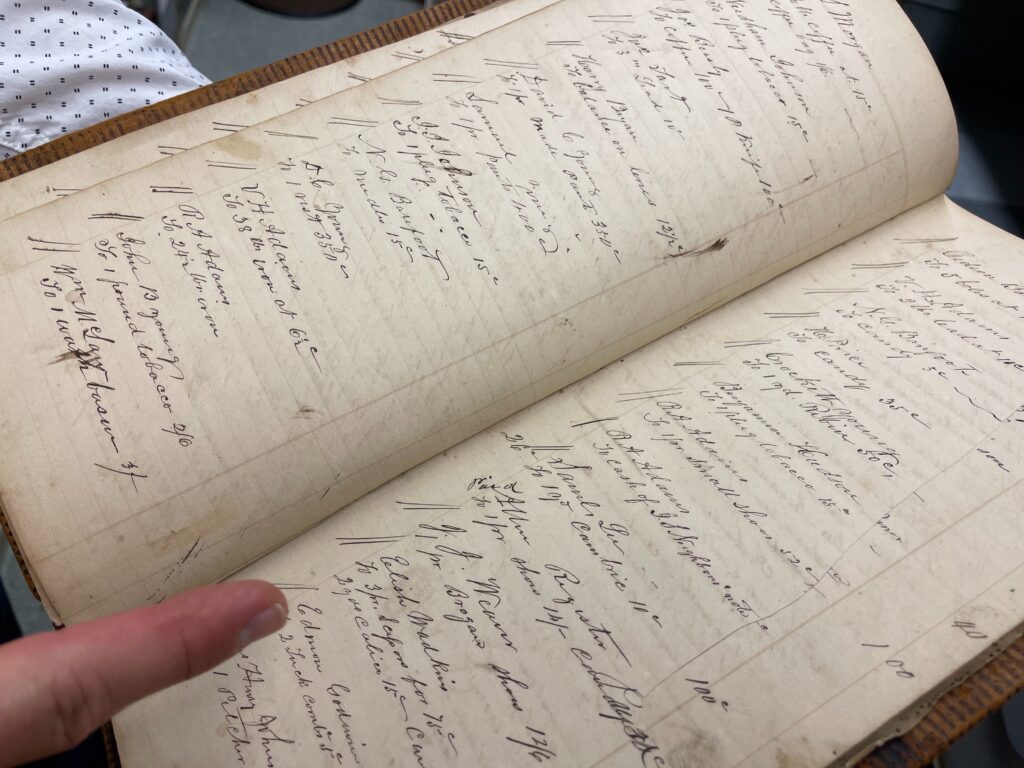 On the Center's second floor, there are slave records from the 1800s, service and pension records from the Revolutionary War, and records from the Bentonville Hospital for Soldiers from the Civil War. Some of the funniest ledgers were from trial documents where men were charged with "shooting crap," "drunk and disorderly," "obstructing streets and sidewalks," and "speeding" (>15 mph when cars first arrived on the scene).
Vicks Vapor Rub, first called the pneumonia cure, was invented in Johnston County by a gentleman named Lunsford Richardson. They had to change the name to its current iteration because they couldn't prove it cured pneumonia.
There are so many little nuggets of fascinating information to be had at the Heritage Center that it is a must-do when you visit. Todd is a fount of knowledge, and you should make sure to make his acquaintance.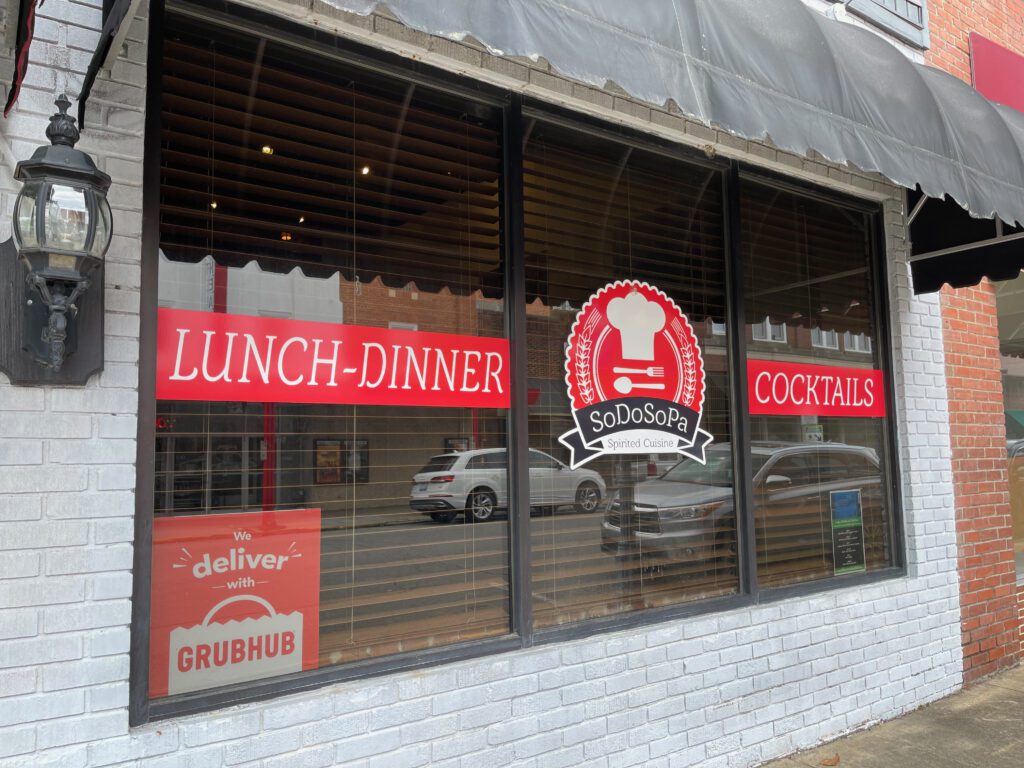 SoDoSoPa
If you're from the south, or even if you're not, you know there are a million different versions of barbecue. If you happen to be in Smithfield, you must stop at SoDoSoPa because anything you order from this menu will satisfy even the heartiest of appetites.
With recipes that have been handed down through six generations in the true southern tradition, even if you bring your entire family, your friends, neighbors, and whoever is left, they will all drop to their knees and praise the food gods for directing them to this luscious fare.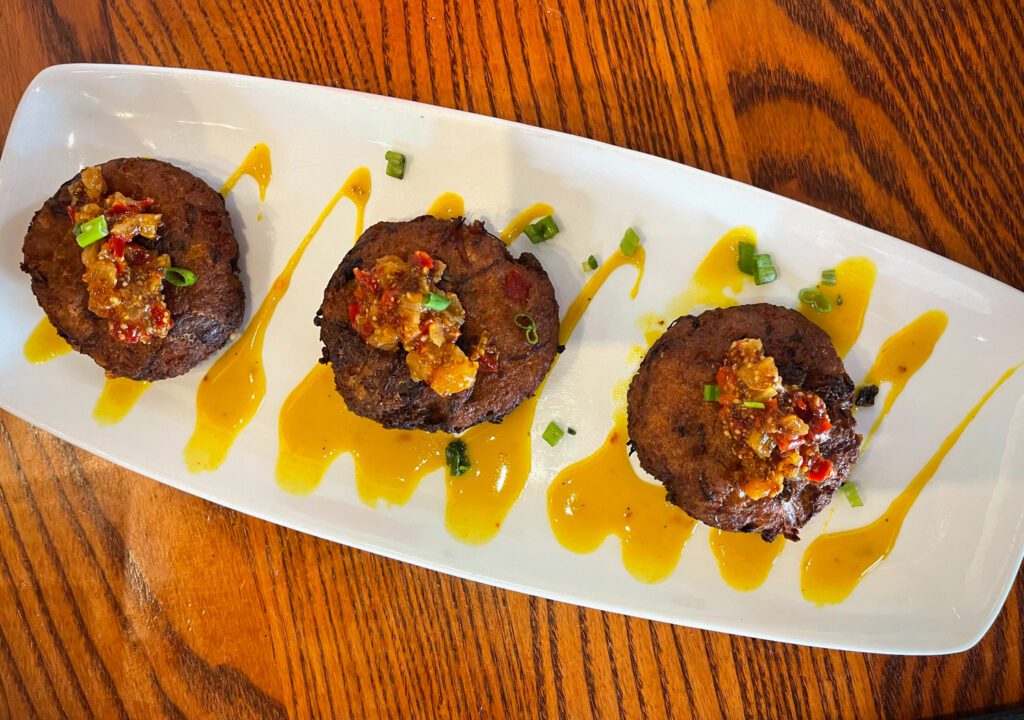 I started my journey with Hog Cakes, like crab cakes, only better. They were topped with homemade pepper relish and melted in my mouth.
Their menu is broken up into sections — smoking and non-smoking — and true to their claim, in the smoking section, they have smoked brisket, pork, ribs, and chicken that creates a flavor explosion in your mouth. You can pick between any one of four choices or take them all! Then there's the Beast Feast. Don't ask. You have to go to see and believe. Not to mention all the different sauces. Please don't make me choose!
The non-smoking section offers meatloaf, a pork porterhouse steak, fried chicken, salmon, steak, and shrimp and grits. There are nine sides, including "the best collards you've ever had," and a kid's menu. And last but not least, there is dessert — if you have room. You probably won't, but just in case. With a menu like that, there's sure to be something for everyone.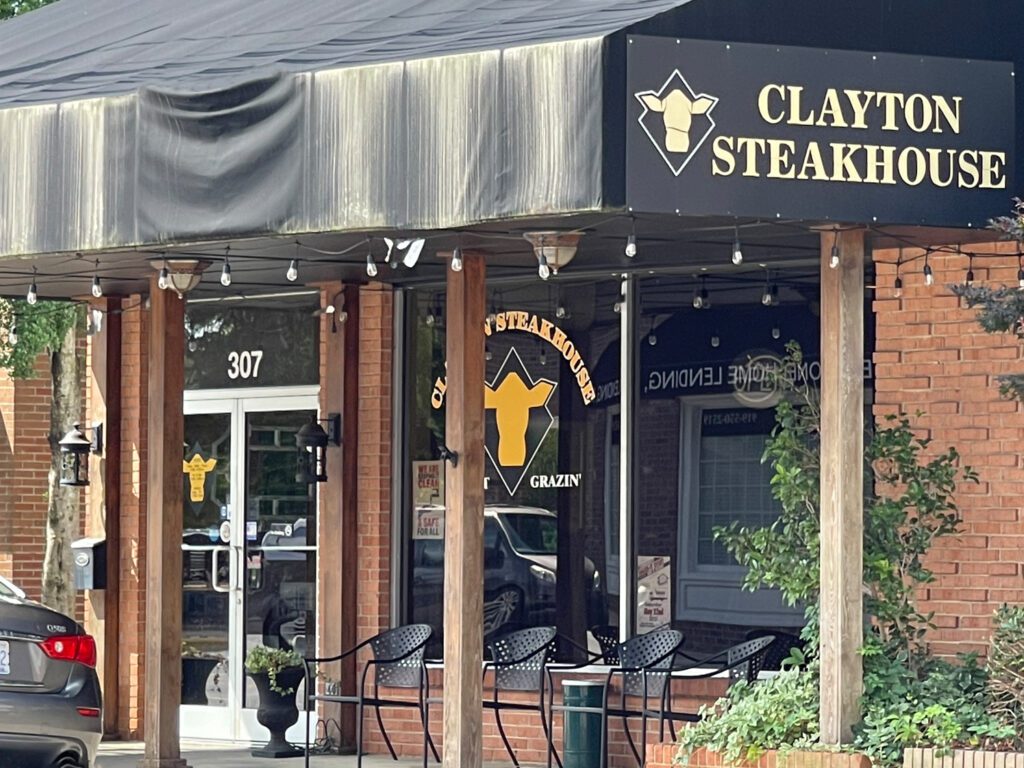 Clayton Steakhouse
With so many small towns within the perimeter of Johnston County, I would be remiss if I didn't mention the husband and wife, family-run Clayton Steakhouse, just a hop, skip and jump down the road from Smithfield. Located on Main Street, the appearance of this place is that of a classic steakhouse, but the food is anything but classic.
When you walk in, the smell of grilling steaks grabs you. I kept thinking of those cartoons where you can see the scent of something great wafting through the air and the cartoon character being mesmerized by it and floating to where it's coming from. Yum!
All the steaks and seafood are premium grade and grilled to order when the customer comes in. Get your drink and relax while you wait for your delicious meal to arrive. It comes with a salad bar (one of the best in the state), homemade salad dressings, and a side.
They also have homemade desserts to die for — buttermilk pie, strawberry cream pie, and triple chocolate cake. Who can resist buttermilk pie is what I want to know. They occasionally alternate the desserts with peanut butter pie, coconut pie, blueberry pie, raspberry cheesecake, and carrot cake. Are you drooling yet?
It's a good idea to make reservations here because they are constantly busy and only have room for 76 people in the main dining area and an additional ten in the bar area, where you can get a variety of wines and craft beers. As the saying goes, good things come in small packages, and while this place is small, it is epic. It's a must-visit if you're in the area. You'll be so glad you did.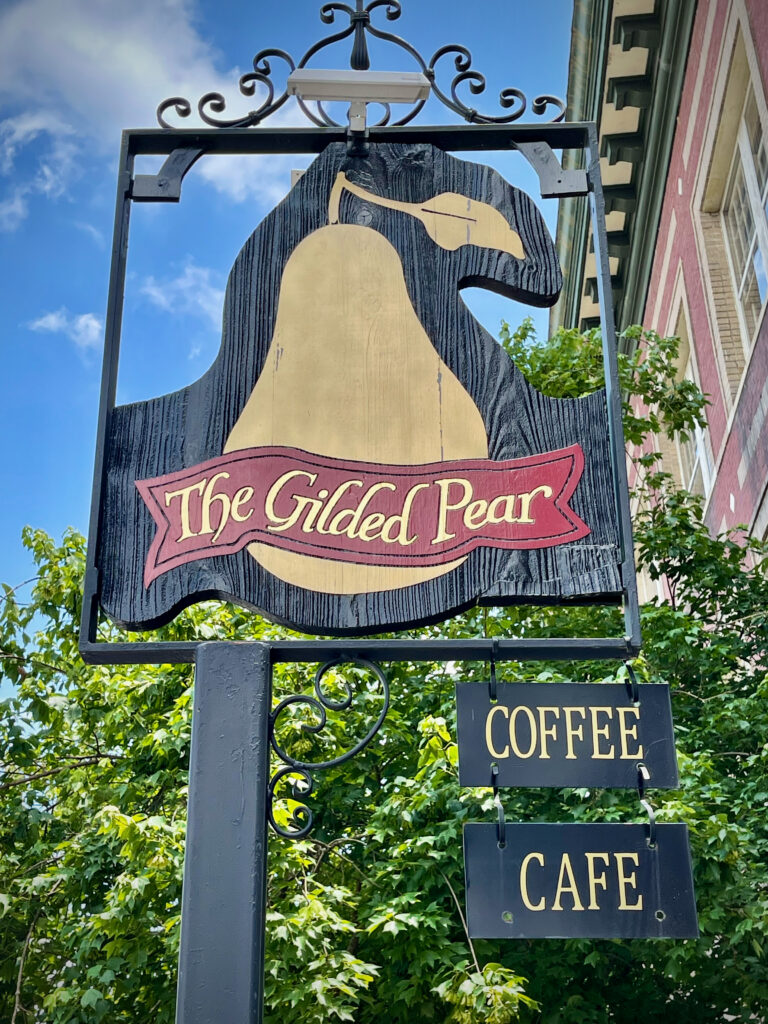 The Guilded Pear
If you're looking for a perfect, locally owned place with a great atmosphere, good attitude, and friendly people, this is it. How can you go wrong by offering the "pear necessities" of life with coffee, craft brews, wine, breakfast, lunch, and catering?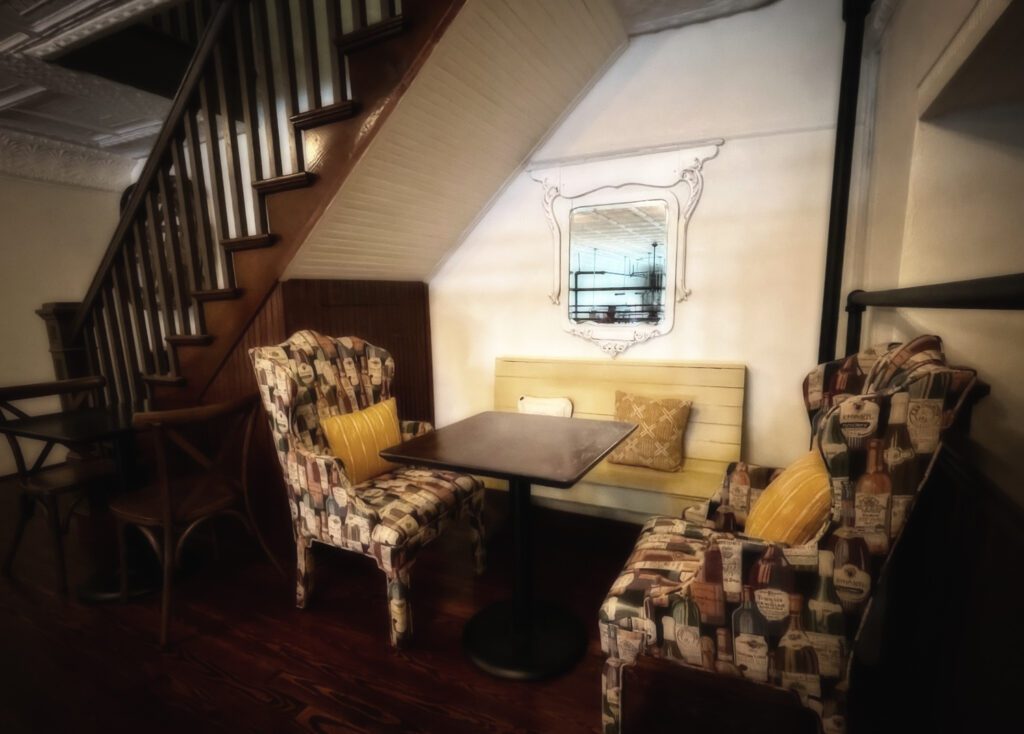 The Guilded Pear lives in a building that is over 100 years old which comes with its own set of problems, but the owner, Gloria, takes it all in stride. Everything is original — the tin ceiling, the flooring, etc., and they recycled everything they possibly could. There's a fantastic loft area that's decorated with things that have been collected over the years and make Gloria happy. Happy is what it's all about.
She is also happy to "be part of a community, to give back to a community, and to develop a "pay it forward" attitude." They have staff meetings where the employees bring ideas of ways to give back to the community. It's a different mindset.
For example, when they sell a bag of their Teeny Weeny Beanies coffee, 10% of the proceeds go to NICUs in North Carolina. "There's always someone in need, and people just keep giving," Gloria says. The entire community considers everyone else and always looks for ways to pitch in.
Also, when they first opened, they decided to do crêpes instead of donuts because the guy down the street was doing donuts and sandwiches. So, in the spirit of no competition, they do sweet and savory crêpes. They're also working with Celtic Creamery to develop a coffee ice cream. Their ice cream uses an Irish recipe that is extra creamy. Stop by and experience the Guilded Pear for yourself. It's a pretty chill place. You'll love it.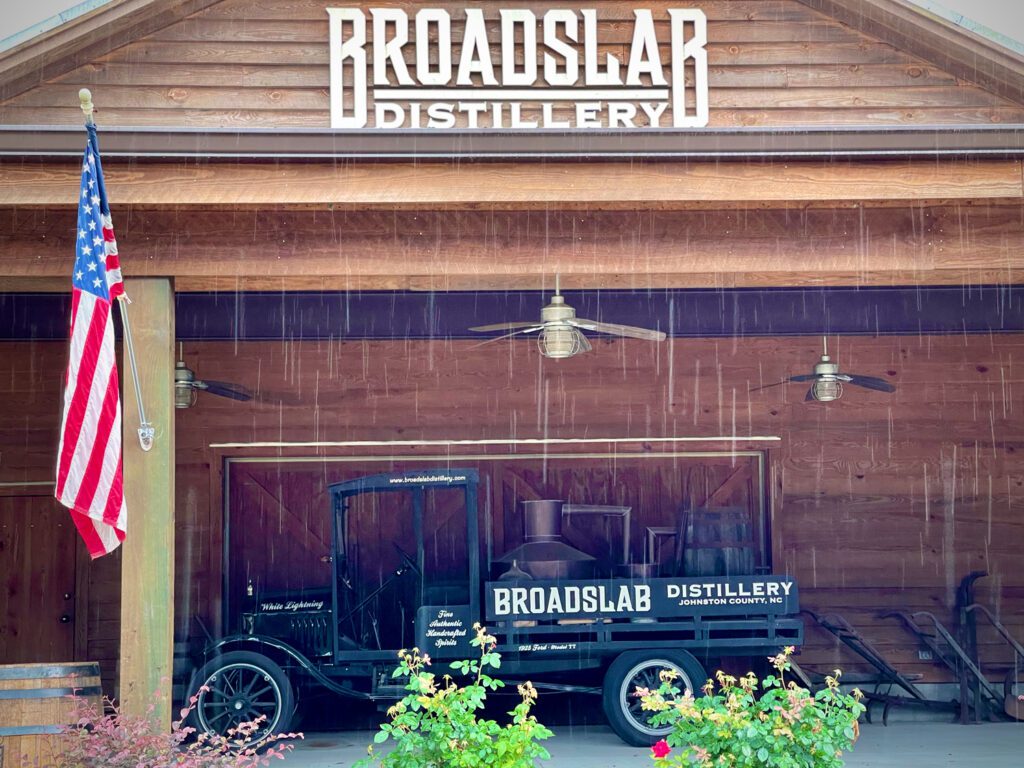 Broadslab Distillery
When you go down the driveway entrance to Broadslab, if you look off to the left side, into the woods, you can see one of the old stills. So if you want to have an authentic distillery experience, Broadslab is the place.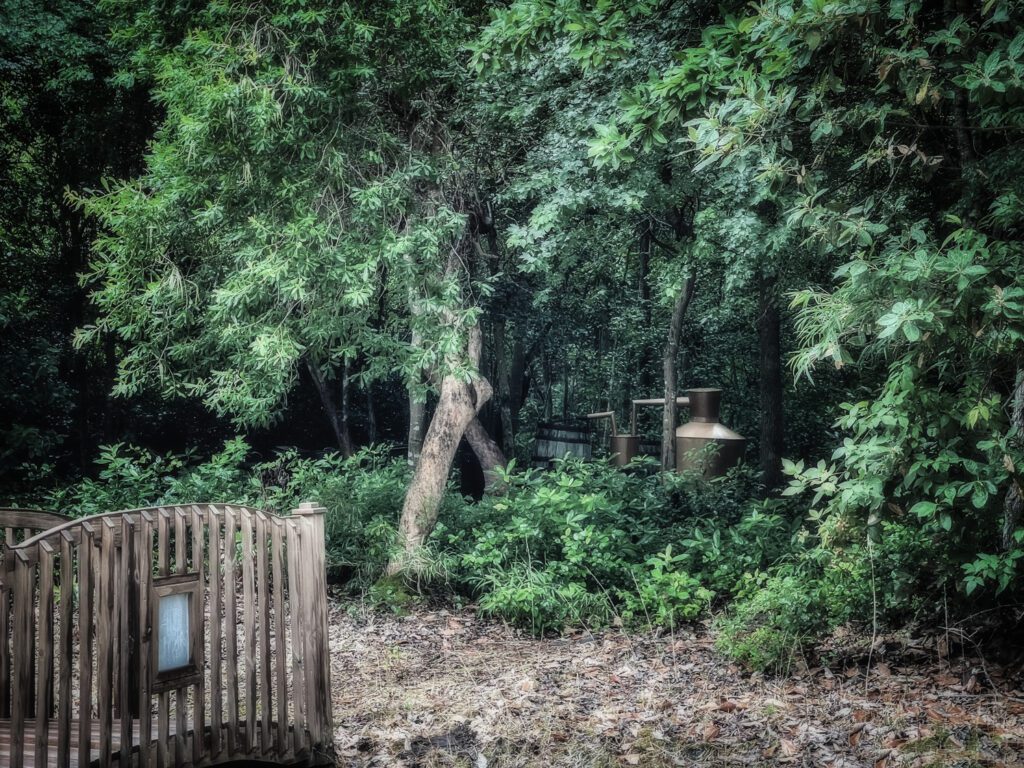 It was started by Jeremy Norris' family back in the early 1800s and made it from "dirt to bottle." Back then, everyone was a farmer and a bootlegger. Making moonshine was how you supplemented your income and got by. It wasn't until the 1950s that the government got involved and decided they needed to retire.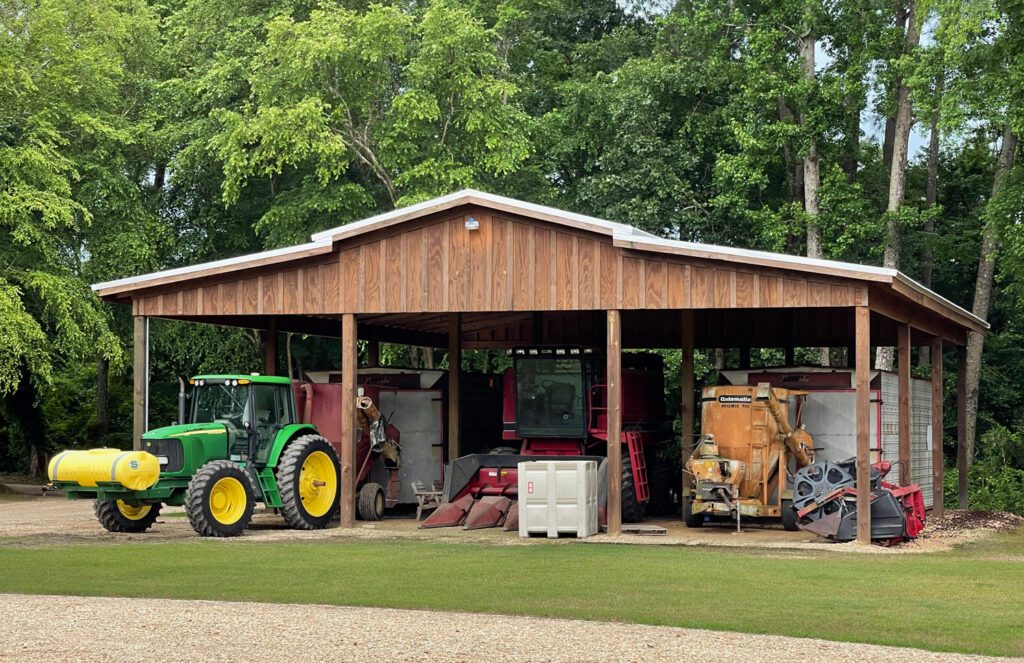 However, after a long history of farming and bootlegging, it's labeled a distillery and has become a legitimate business. It's the only distillery in the state that grows, harvests, and processes the grain with all-natural ingredients, besides being a one-person show, which in itself is pretty incredible when you consider the size of this place. Jeremy uses hands-on techniques to create small batch whiskey and only occasionally hires help to get everything done.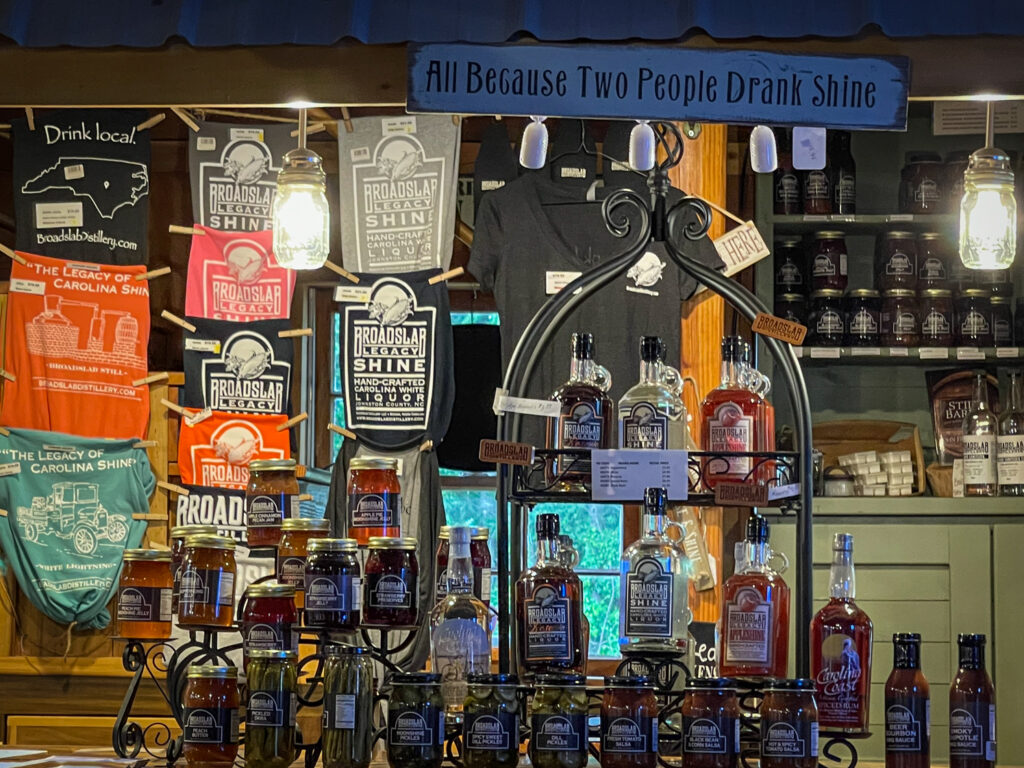 They have several award-winning products, but the Legacy Shine (Gold winner) and Legacy Reserve (Bronze winner) are staples. Their Legacy Appleshine (Silver winner) is infused with all-natural spices and 100% pure apple juice. Quite tasty. They also make Silver Rum and Spiced Rum. One of their website's most fun features is their bar drink recipes if you're not a straight whiskey sipper.
And for the first time in 100 years, they've opened up the distillery for tours and tastings. You get the tasting, a tour, and a shot glass for $12. Go. You'll love it.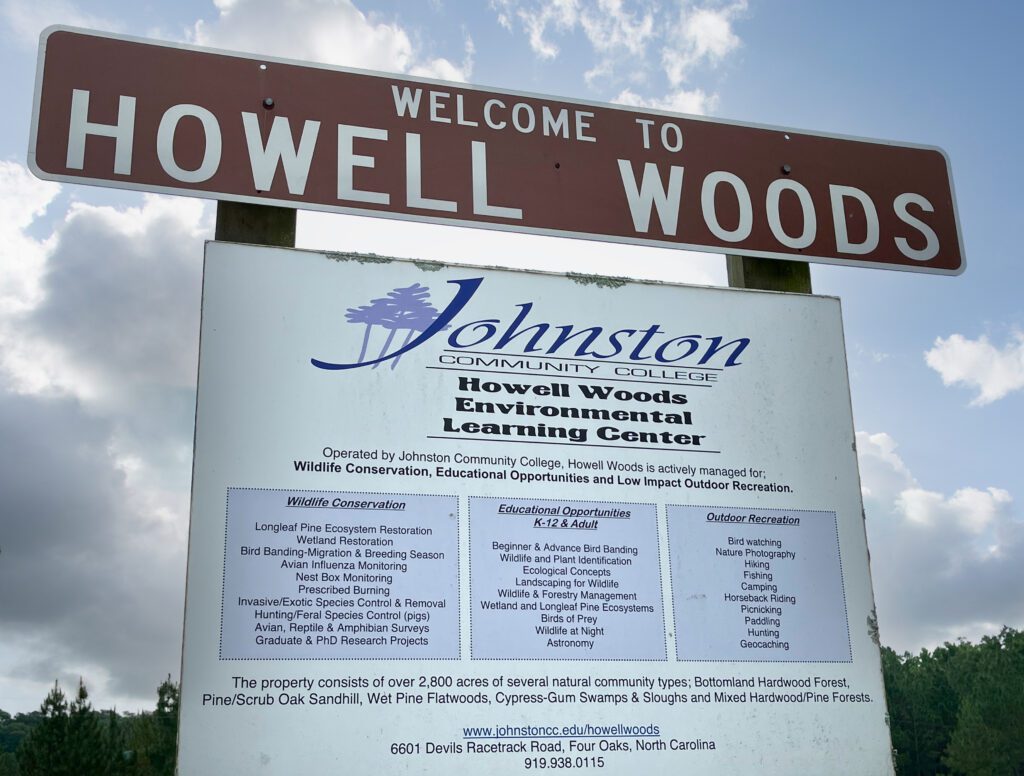 Howell Woods
When you go out to Howell Woods, you will discover (if you don't get lost as I did) that it's an environmental learning center that's part of the Johnston Community College. It's located on a 2800-acre "natural outdoor classroom" designed to educate folks about how to be conscientious environmental stewards. Given our planet's direction, this place couldn't be more timely.
Savannah Pond is what you'll see upon entering the property. It was lush and green, and the singing birds made me want to sit there on the dock, in the rain, all afternoon. It was warm enough to.
Upon further inspection, there are trails for hiking, camping, cabins to rent, biking, fishing, bird-watching, and even controlled hunts. It's also BYOH — bring your own horse — if you want to ride the trails, which I thought was an excellent option.
The cabins are pretty big, sleeping eight and sixteen, respectively, and they have private showers, grills outside, and a shared kitchen. They also have porches where you can sit and sip a glass of wine while contemplating the day or watching the sunset.
It's a lovely place to spend some quiet time and get away from it all to (re)connect with nature.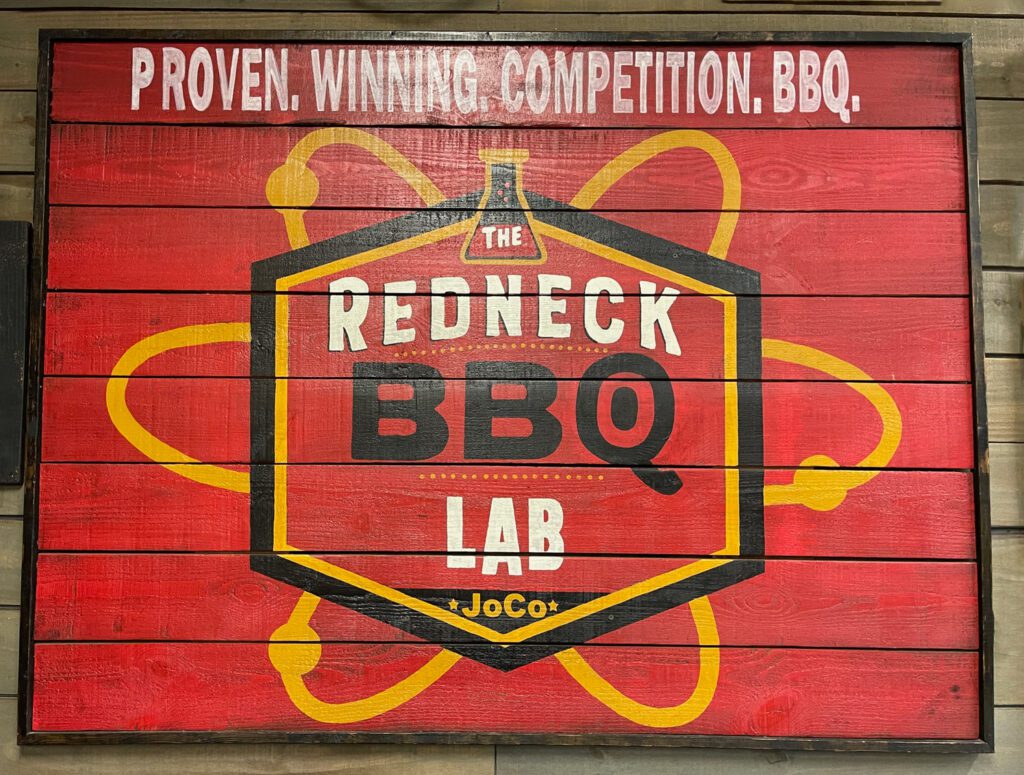 Redneck BBQ Lab
When I first saw the name of this place, my mind envisioned men running around with white lab coats and mad scientist hair sticking out and round spectacles with Jacob's Ladders everywhere. I couldn't help it. I can't be held responsible for where my mind goes some days. I couldn't have been more off base if I tried.
According to the Redneck BBQ Lab, the definition of a redneck is this: noun | redneck | 'red-,nek | a hardworking individual who loves God, family, and country (and BBQ). Well, I'd say that clears that up right quick.
You first see the trophies from winning barbecue competitions when you walk into the restaurant. Tons of them line the walls, and that's only a tiny sampling. It turns out they used to be a barbecue competition team called Redneck Scientific and competed all over the country and were also featured on the Food Network.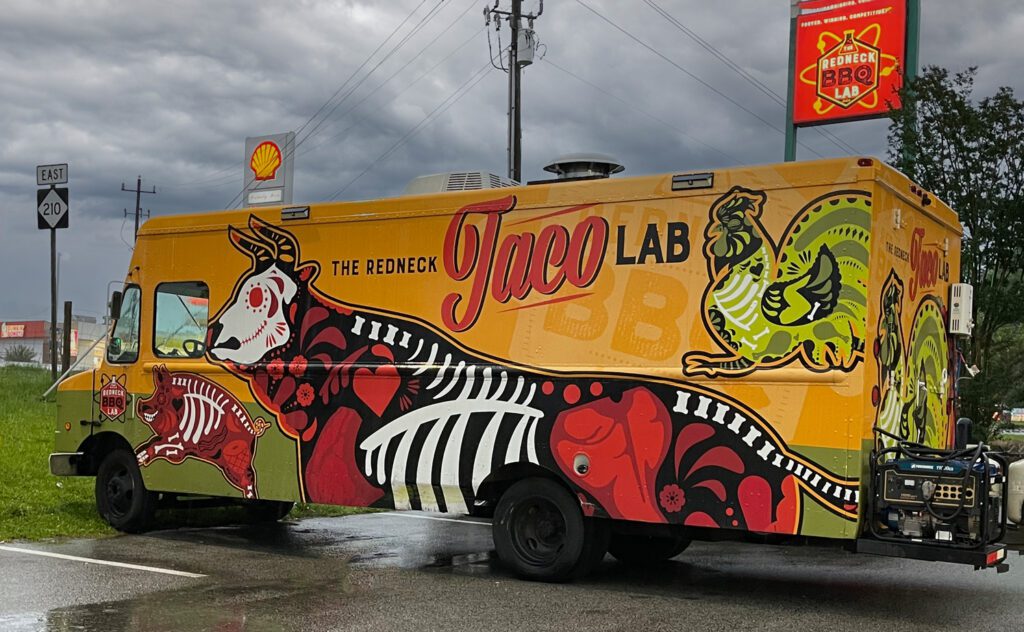 The Redneck BBQ Lab is one of the most down-to-earth, homegrown, and friendly places I've ever been. Not to mention, the food is out of this world! They're one of, if not the most popular eating establishments in Johnston County and have grown into much more than expected with a restaurant (plus one in Raleigh), two food trucks, and a catering business.
They also opened a commercial kitchen to handle the catering and food trucks and designed "ugly smokers," which became known as Redneck Ovens. I don't think these guys are busy enough.
They introduced "burnt ends" to the area, and while they make 200 pounds of burnt ends every day, and every day they sell out. They use three different types of sauces and leave it up to the customer to decide which one they like best. They also have sides like coleslaw, mac 'n cheese, and you can choose between biscuits or cornbread, though the cornbread is the most popular.
While I was eating my very own serving of burnt ends, I got a little bit of barbecue history to go along with it. Very interesting, but you'll have to go there to get your own lesson. Just ask. Seriously, you have to go. Your tastebuds will thank you. Forever.
To Conclude
Johnston County may not be on many peoples radar, but it should be. While it isn't your typical crowded tourist destination, it's a place where you can pull off the highway and have a great day exploring, relaxing, discovering a new foodie scene, craft brewing, wineries, distilleries, and even Hollywood. There is a strength of community here.
Go. You know you want to.