Imagine you're back in high school for one second, maybe attending a homecoming game, and out comes the marching band. The band leader is heading up the procession, but right behind him is the Tuba section.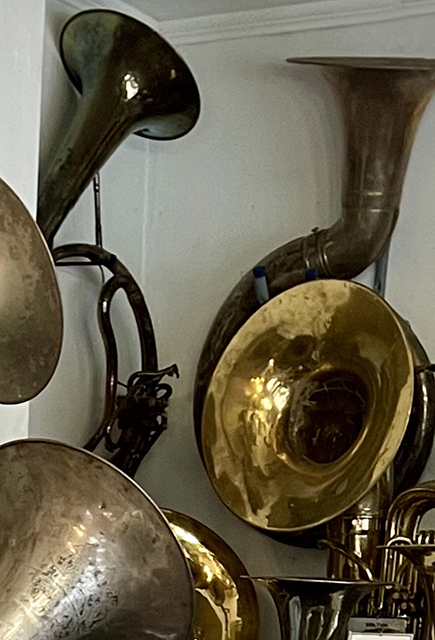 Now imagine there is a museum dedicated to only one musical instrument, and that instrument is the Tuba.
Standing in front of this small, unassuming house, you see the sign indicating you have indeed arrived at the famous Vincent and Ethel Simonetti Historic Tuba Collection and eagerly await your entrance.
The Collection
Here lives a historic collection dedicated to only one musical instrument: the Tuba. "What?" you might say. Or, "The Tuba? Really?" Yes, you heard that right. Durham, North Carolina, is where the Vincent and Ethel Simonetti Historic Tuba Collection lives, and it's like nothing you've ever seen or imagined. An entire house filled to the rafters (literally) with Tubas from the world over dating back to the early 1800s. Not something you see every day.
Never having visited Durham, I came across this phenomenal site while researching cool and unusual things to do and see. So, imagine my surprise when I discovered an immense, historic Tuba collection of these seemingly obscure, incredible instruments.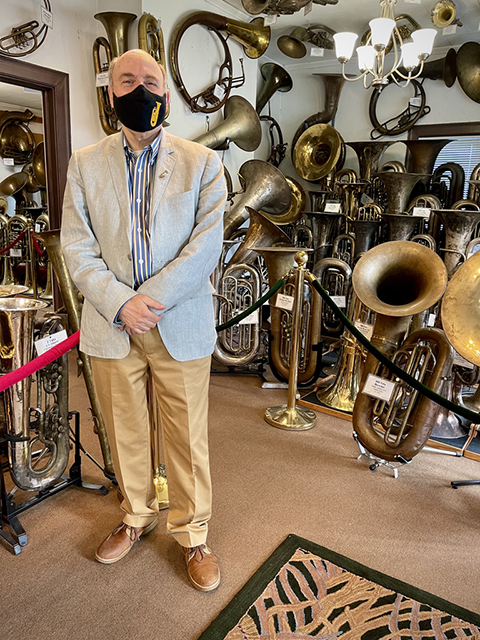 Vincent Simonetti is the curator, and interviewing him was one of the highlights of my trip to Durham. Expanding on a brief history of the Tuba, he talked about how the museum came about, and in particular, how while there are plenty of museums for musical instruments, the Vincent and Ethel Simonetti Historic Tuba Collection Vincent and Ethel Simonetti Historic Tuba Collection is the only one of its kind in the world dedicated to a single instrument.
Wandering from room to room, listening to how each piece was acquired, from whom, where it originated, and even what the intricate engravings on the horn mean, it's an educational experience from the beginning, representing the history and development of the various members of the Tuba family.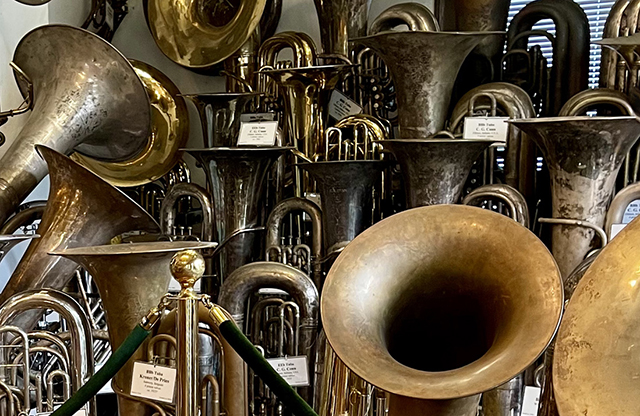 Types of Instruments
Known by several names due to their shape and sound, Tubas can also be known as Sousaphones (the giant ones), BBb Tubas, CC Tubas, EEb Tubas, Euphoniums (compensating and non-compensating), Marching Tubas, Marching Mellophones, and last but not least, the St. Petersburg Tuba. They can range in price from around $2000 to more than $15,000. I certainly had no idea Tubas had this many family members and was this varied, not to mention costly. Information like this is one of the reasons I love to go to unusual places and learn new things, in which case this definitely qualifies as unique. I have a newfound respect for Tuba players or anyone who aspires to be one.
The Tuba Exchange
Simonetti began his Collection with a Cerveny Helicon dating from around 1910, which he found in Boston in 1965 during his tenure as a Tuba player in the Russian Folk Ballet Troupe for the Moyseev Ballet Company. And so it began, though most of the Collection was acquired during the time he owned the Tuba Exchange, which he founded with his wife in 1984.
The idea behind the Exchange was to provide instruments to children and schools that couldn't afford them. A very worthy cause, if for no other reason than to allow the kids to experience the joy of learning how to play an instrument.
Even though he and his wife sold the Tuba Exchange in 2011, they still retain ownership of the actual Collection, intending to develop it to be more accessible to the public. Currently, the Collection is open to the public from 3 pm to 5 pm on Tuesdays and Thursdays and is limited to 15 people at a time.
Conclusion
Visiting and experiencing this Collection will take Tuba players, aspiring players, and attendees of the homecoming game everywhere, back to their days of marching band and the glories of being the big dog heading up the band, as it should be.