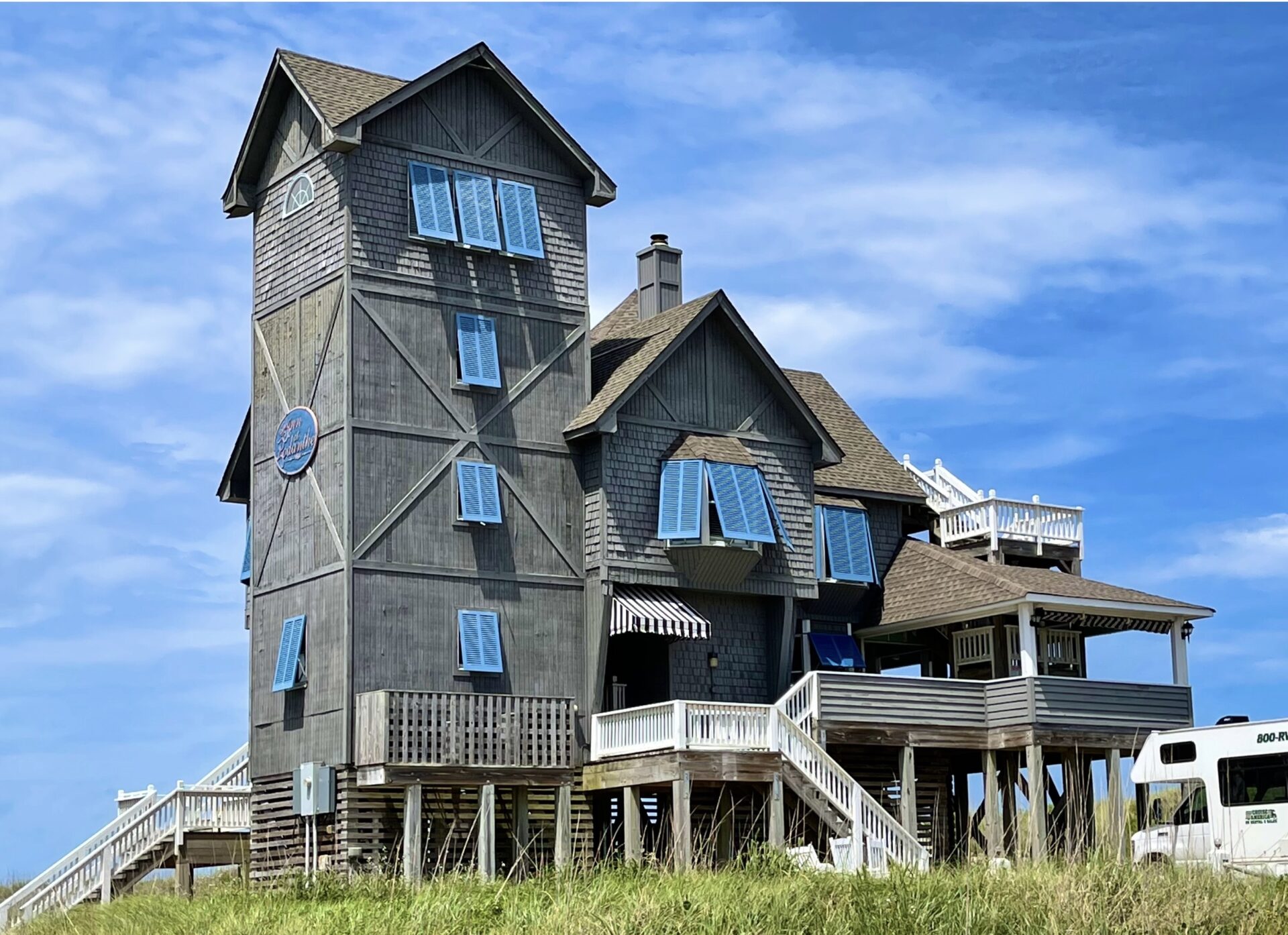 Ever since I saw the movie Nights in Rodanthe, with the fantastic house, the wild horses running on the beach, the ocean, Richard Gere…I've always wanted to go to the Outer Banks. I finally got the opportunity in the form of a photography workshop. When I got there, it was everything I dreamed it would be and more.
Since I was early, I explored the Wright Brothers National Monument, which was incredibly cool. The Wright Brothers were absolute geniuses. From building bicycles to building an airplane? Very impressive. Inside the visitor center, there's a full-scale replica of the aircraft they built. Once I saw it, I thought to myself; no way would I ever have the nerve to attempt to fly that thing.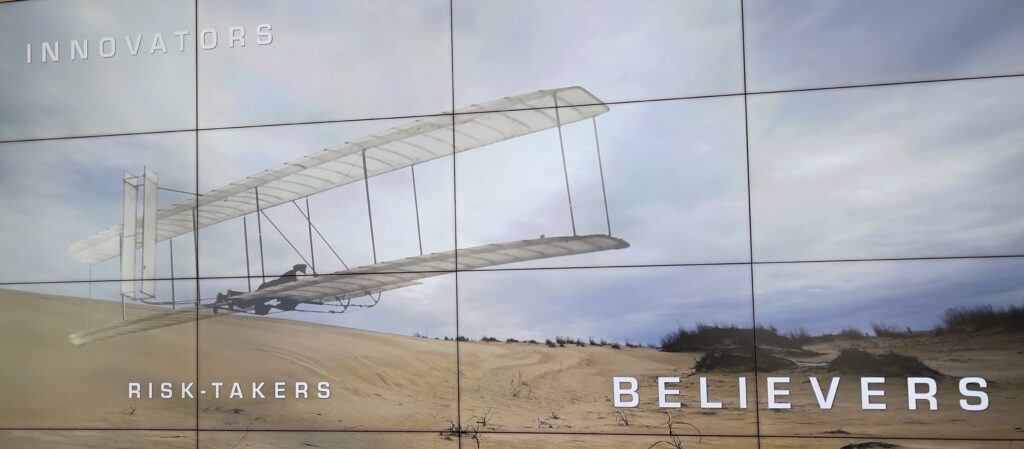 But that wasn't all. Once outside, there are markers where they started the flight and eventually landed on each of their test flights. The first one was relatively short, but the last one was approximately a quarter of a mile. Compared to the distances flown today, that was nothing, but compared to their time, it was significant.
My workshop began the next day, and the anticipation of attending was like trying to sleep waiting for Santa to show up. I love photographing wildlife anyway, but I've never experienced hunting for and finding it in the wild. We started with looking for black bears, and unbeknownst to me, black bears are usually up in trees. We searched and found everything but black bears — owls and other birds, beavers (which was very cool), alligators, you name it, but no bears. I was determined to find one. Sure enough, once I put it out there in the Universe (I know, a bit woo woo), I found one!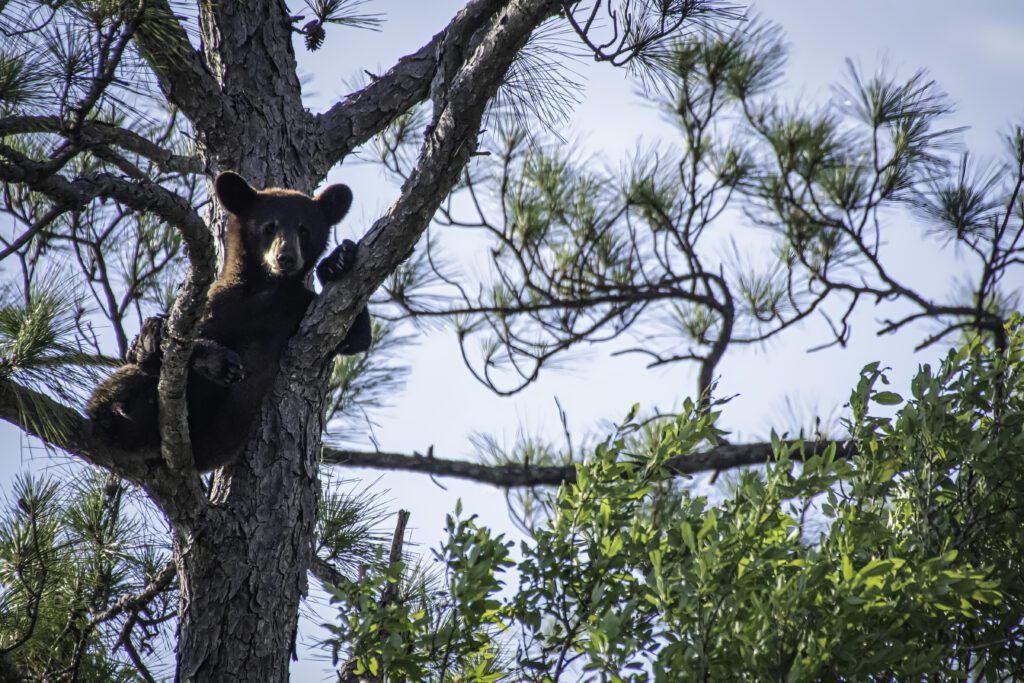 We were driving for what seemed like ages when I saw something dark in a tree. I asked our instructor what that was, and he pulled out his binoculars, and sure enough, there was a young bear. Yay me! We parked, walked a little way in, and not only was there one but about 25 yards away, there was another young bear in the bushes. He stood up, looked at us long enough for us to get off a few frames, and took off like a shot. Who knew they could run that fast?! Lucky for us, Mom was nowhere around.
The following day was the icing on the cake, and we still had a full two days to go. We went to the beach to photograph the famed wild horses that live on the Outer Banks. The story goes that Spanish explorers left them on the islands when they departed because of some disease that killed a lot of the crew from the ships. That was 400 years ago, and apparently, they flourished.
The first thing is that it's the only beach you can drive on. You have to be aware of people, horses, and birds. There are regulations regarding approaching the horses — you can't get within 100 yards for their protection and ours. So if you're going, definitely take your long lens.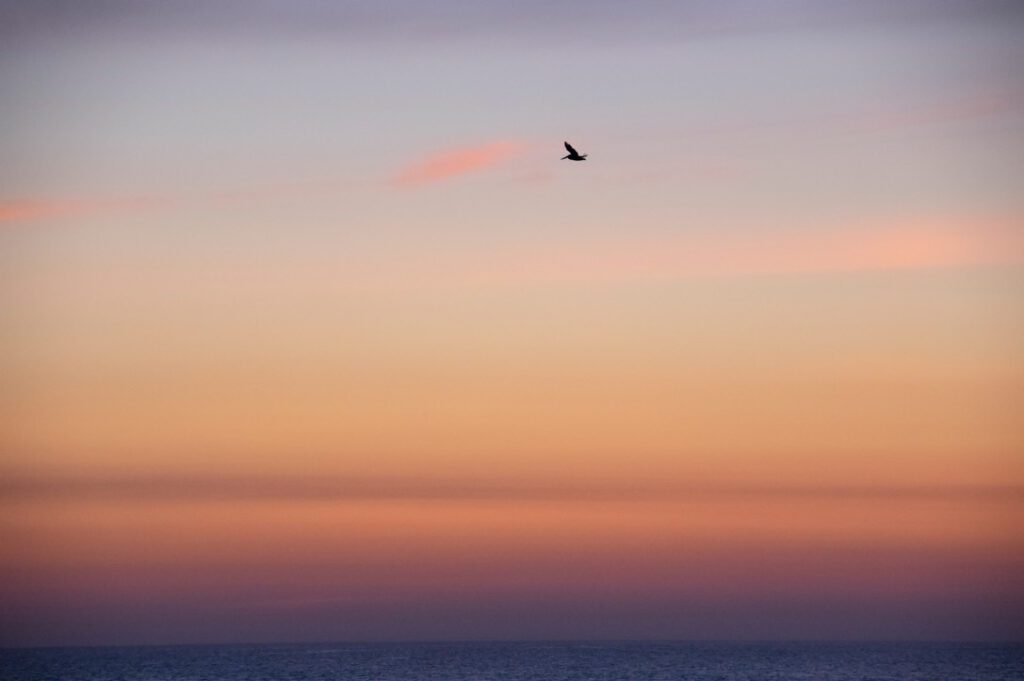 We got there at dawn, and it was beautiful. The sunrise on the water, the pelicans, the waves — it was just like I thought it would be. I was in heaven. Then we saw our first horse. She was standing there near the water, enjoying the solitude of the morning. I kept thinking, this is what nature is supposed to be like. It was an absolutely humbling experience.
As the day progressed, we saw more horses — a mom and baby, a lone stallion, a harem (a group of females belonging to the stallion), and a few just running and doing what wild horses do. It made me want to cheer as they ran by. Stunning.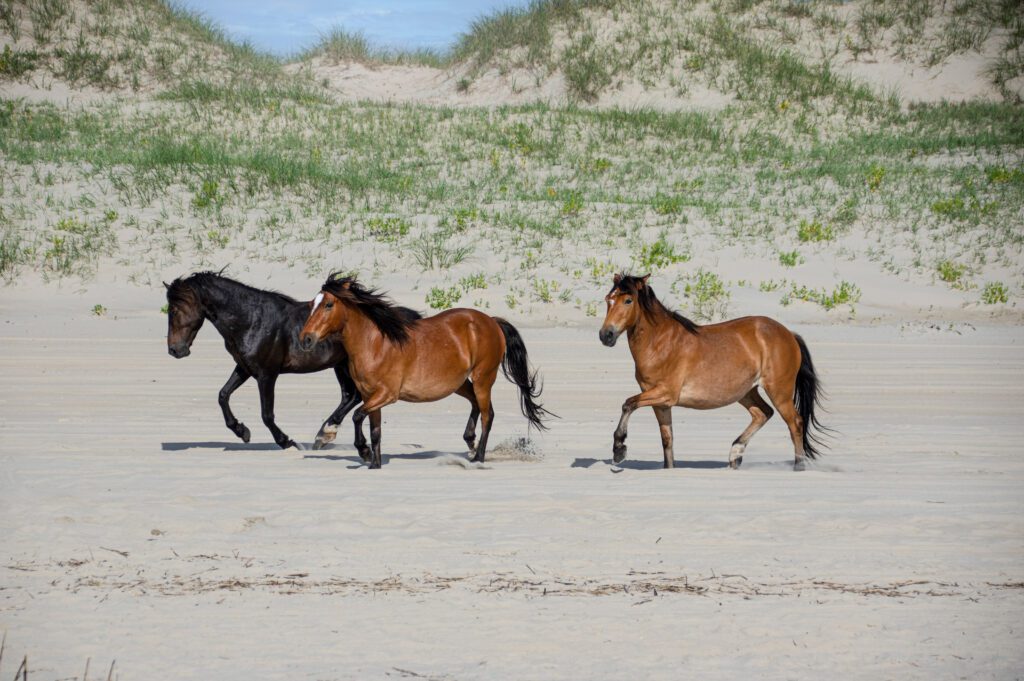 Later on in the day, we photographed shorebirds. Pelicans, in particular, were abundant. There were other birds I'd never seen before, but they were no less impressive than the enormous pelicans. They would run on the sand and stop long enough for us to get a terrific portrait of them, complete with a reflection on the sand. It was almost like they were posing for us. Amazing.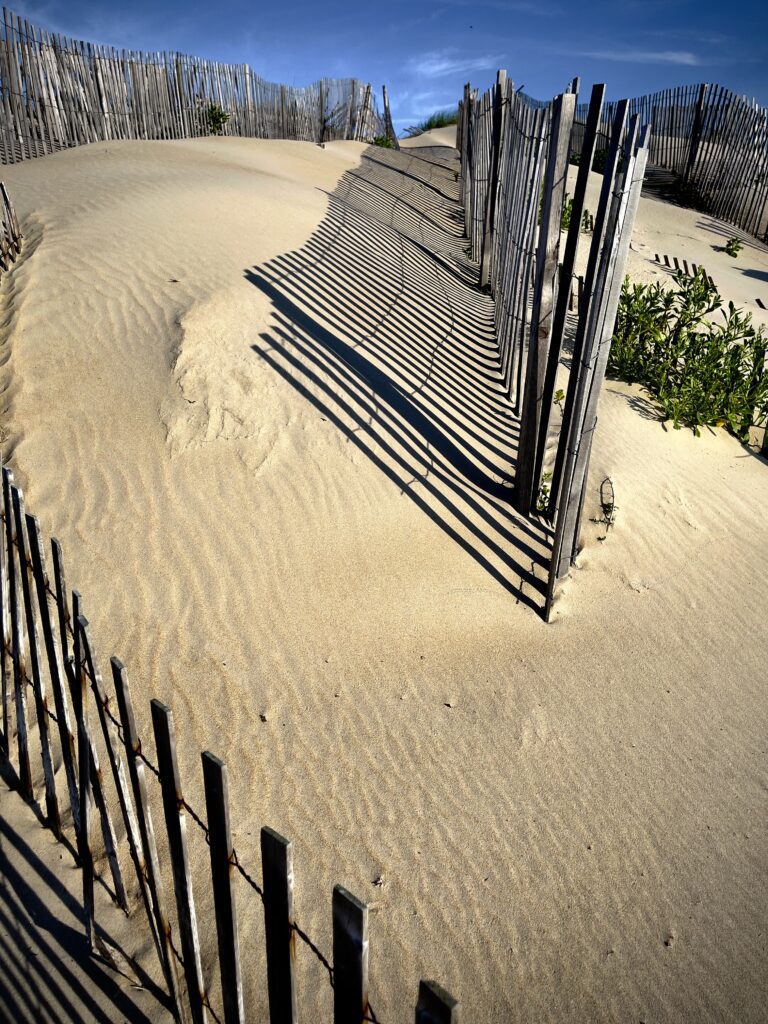 On the way back, we stopped to photograph sand fences, which I've only ever seen in pictures. They're very cool to shoot, given the shadows and lines they cast, as well as the light they give and take away. It was a perfect example of DaVinci's "light is the chaser away of shadows" on a beach in North Carolina. Perfect.
We all went home exhausted that day but couldn't wait to get back to our rooms to see what we captured on that unimaginable day. Exhaustion takes a back seat to anticipating the shots you got.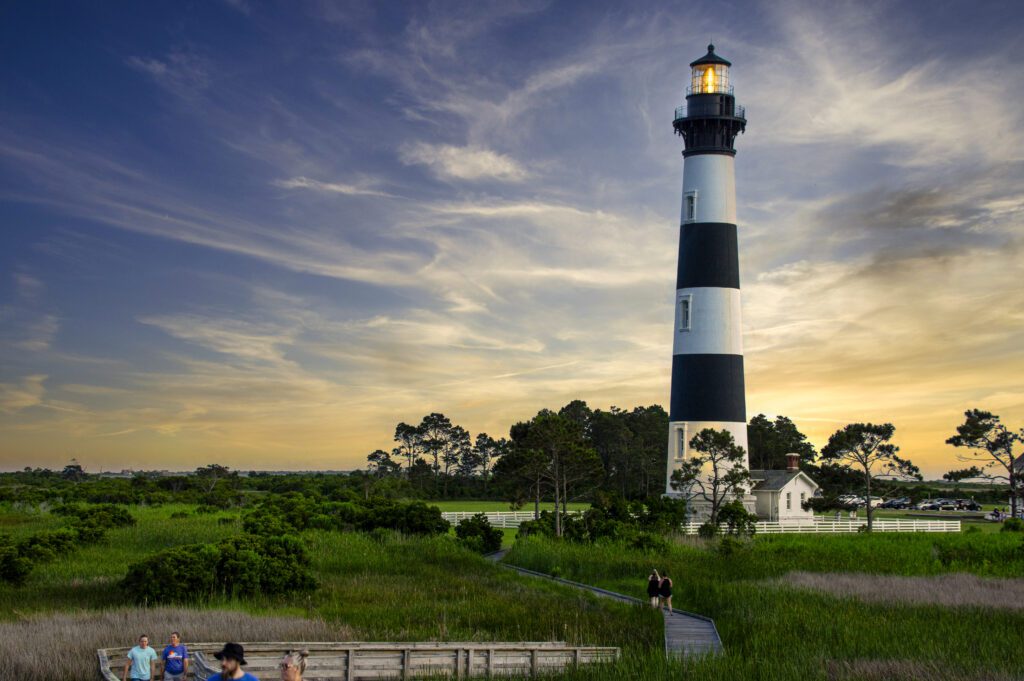 Lighthouses and life-saving stations were the order of the day next. We explored Bodie Island Light Station during the blue hour and captured images of the light shining out to sea. We also explored the Oregon Inlet Life-Saving Station that's been there forever to rescue shipwrecked sailors from the treacherous waters and rocks that plague the shoreline.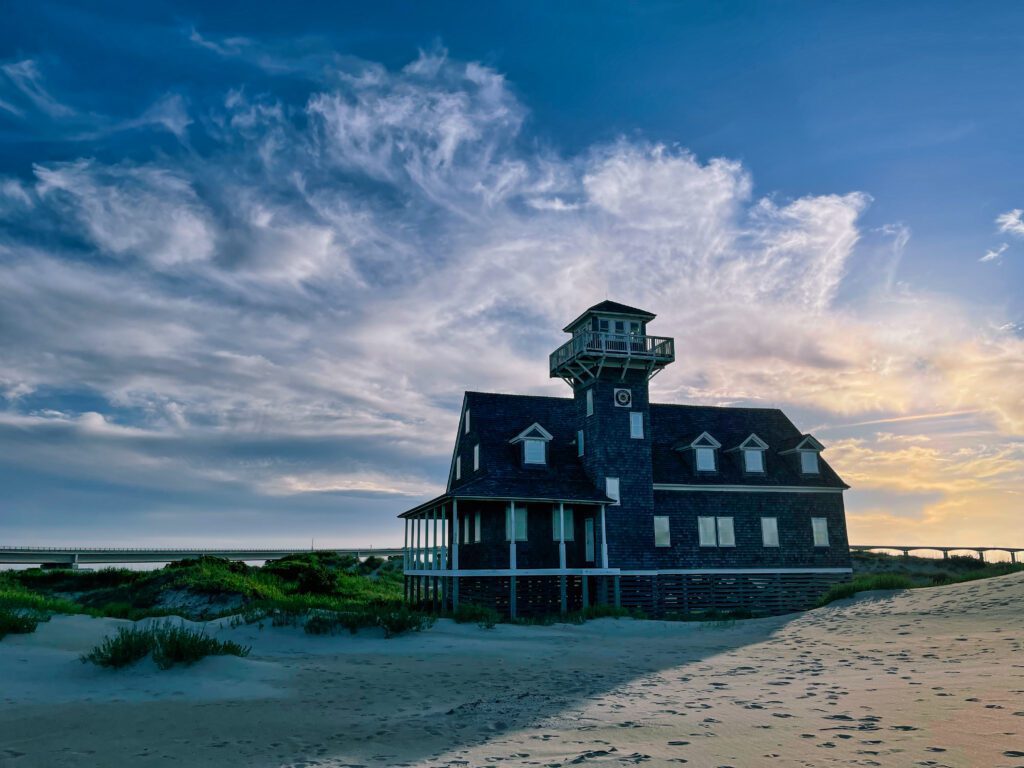 Later, on my own, I explored the Cape Hatteras Lighthouse. It was awesome. To think that the ocean could threaten such a structure boggled my mind, but even more so when I heard the story of how they moved it out of harm's way so that it could go on for at least another 100 years. After moving the entire structure a quarter of a mile inland, not a single brick was cracked. Not one. A fantastic feat of engineering, to be sure.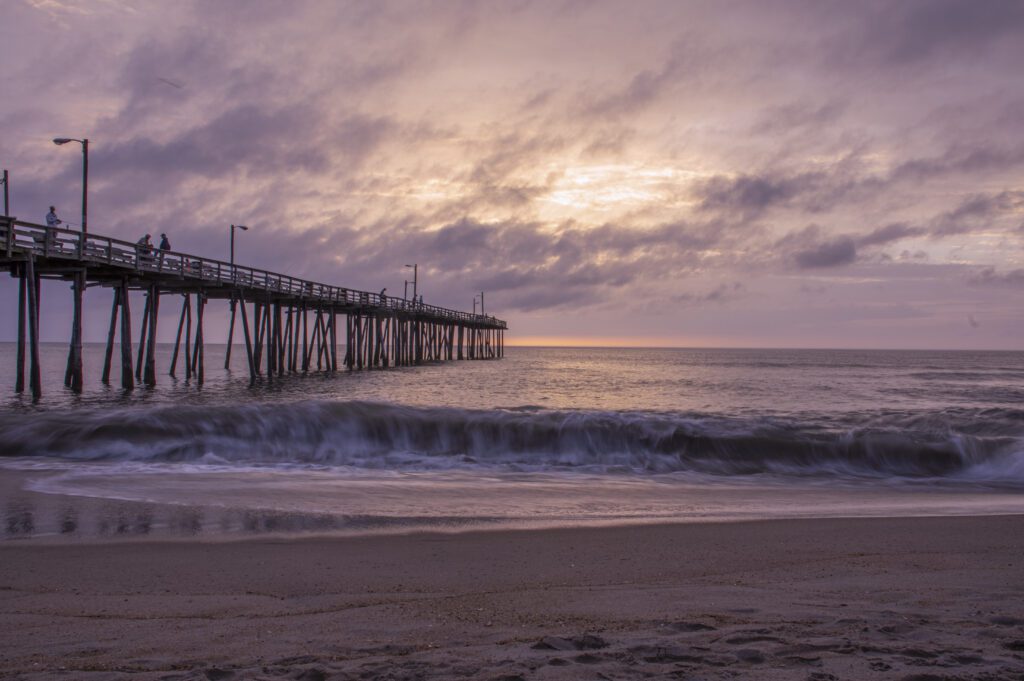 On the final day, we once again arrived at the beach at dawn, albeit a different beach — to photograph silky ocean water. That was to be my last opportunity to photograph anything with my wide-angle lens for a while. I turned my back to get a cleaning cloth for the lens due to humidity fogging my lens, and it crashed onto a pile of sand(!), cracking right across the middle. I was so bummed! Who would've thought sand could break a lens? I sure didn't. Good thing I have insurance. The good news, though, is that I managed to get a few good shots before it happened.
All in all, though, it was a phenomenal trip. Excellent images were created, ooos and ahhs were to be had all around, and there were good people to share it all with. Doesn't get much better than that, even in a dream.