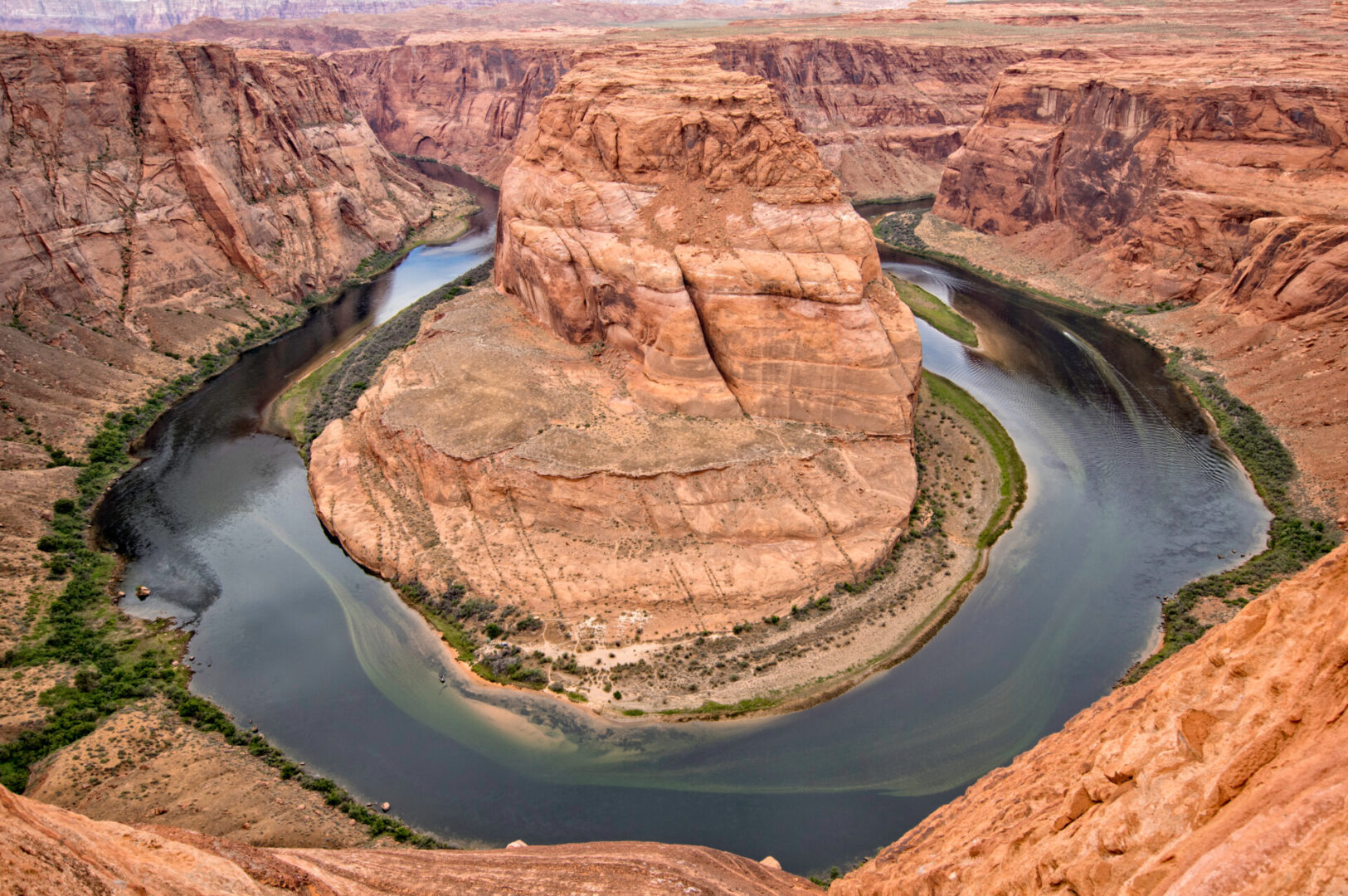 Since I was in the neighborhood, that neighborhood being Page, Arizona, I decided I might as well hit Horseshoe Bend because, you know, Antelope Canyon wasn't nearly incredible enough. I kept thinking, "what's all the fuss about?" I was about to find out.
Horseshoe Bend is part of the Grand Canyon. The Colorado River runs around it in a circular, meandering, and wandering course that eventually empties into the Gulf of Mexico. But getting to the overlook is much easier. It's a short 3/4-mile walk on a dirt path from the parking lot.
The first thing was that there were so many people I didn't expect to get a decent shot, and I kept thinking my post-processing would take forever to remove the people. To my surprise, not many people were close to the edge (unlike me!). They clearly had more sense. Even Bentley, my sensible pooch, wouldn't get close to the edge. It was a very long way down.
So, standing near the edge, I dug out my wide-angle lens from my camera bag and proceeded to try to get a decent shot. To my surprise, when people saw that I had a camera in my hands, they stepped out of the way without me even having to ask. That was nice. The issue wasn't the people at all. The issue was that even with a 10mm Ultra Wide Angle lens, I couldn't fit it all in my shot. That's how massive this formation is. I actually had to step back, which was probably a good thing.
The color of the rocks at Horseshoe Bend is beautiful, but the Colorado River is this rich blue/green color that doesn't even look real. But it is. Apparently, when it flows out the bottom of Glen Canyon Dam, its color is due to green algae in the river. Then the turquoise color results from being very rich in lime because of the sedimentary rock layers it has cut through. Pretty cool, right? The journey this river has been on–I can't even begin to imagine how long it took to form Horseshoe Bend. Mind blown. But I digress…
Eventually, I managed to get a few shots in and even had a guy way up on the rocks to my right for a bit of perspective. That was the one person I actually wanted in my shot.
After getting my shot(s), I felt like Barbara Streisand in that movie Road Trip, where she's on a road trip with her son, and they get to the Grand Canyon and stand there for a hot minute. Then she turns to him and says, "how long do we need to stay here?" Her son pauses and says, "ok, I think we can go," and they leave. My point is, I wasn't there very long, but the amount of time I was there, I enjoyed immensely. It was an experience I'll never forget. Nor will I forget the sheer size and mass of this natural phenomenon. Mother Nature wasn't messing around when she created this incredible bit of earth art.
Go. It's worth every single second you're there, even if it's only a quickie.
Until next time…